50 years of Boeing 747: How Queen of Skies reigned air travel
This article was written by Janet Bednarek, Professor of History, University of Dayton .The article is republished from The Conversation under a Creative Commons license. Read the original.
---
On Sept. 30, 1968, the first Boeing 747 rolled out of its custom-built assembly plant in Everett, Washington. From the beginning, everything about the plane once known as the "queen of the skies" was big.
It was the first wide-body "jumbo jet" ever built, involving about 50,000 construction workers, mechanics, engineers and others who took it from an idea to the air in just 16 months in the late 1960s. Until 2007 and the introduction of the Airbus A380, it was the largest civilian airplane in the world.
Versions of the 747 have been used in a variety of famous ways. In 1990, for example, a pair of 747-200s began operating as Air Force One, the plane that ferries around the U.S. president.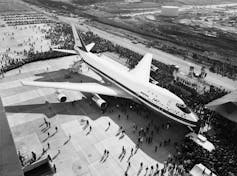 Just to produce the 747, Boeing first had to erect what was and still is the largest building by volume ever constructed – big enough to hold 75 football fields or all of Disneyland.
I've been researching and teaching the history of American aviation for more than a quarter-century. Even though all U.S. airlines have retired their 747s, marking the end of an era, I believe it's worth remembering the amazing story of the airplane that helped make international air travel affordable.
The jumbo jet is born
The story of the 747, like those of many other aircraft, began with a military request.
In 1963, the U.S. Air Force issued a proposal for a very large transport aircraft to carry heavier loads and have a longer range than then-existing transport aircraft such as the C-141.
Although Boeing lost its bid for what is now known as the C5 Galaxy, the designs and studies that went into its proposal didn't go to waste. That's because around the same time, Juan Trippe, the hard-charging president of Pan American World Airways, wanted Boeing to build an airliner twice the size of the first-generation jet airliner, the 707.
It would be "a great weapon for peace, competing with intercontinental ballistic missiles for mankind's destiny," he insisted.
Also read