History hour: the first NA-62 bomber takes off
At Mines Field (now known as Los Angeles International Airport), the first North American Aviation B-25 twin-engine medium bomber, serial number 40-2165, took off on its first flight with test pilot Vance Breese at the controls and engineer Roy Ferren in the co-pilot's position.
The airplane, North American model NA-62, serial number 62-2834, was developed from two earlier designs which had been evaluated by the U.S. Air Corps but rejected, and it was ordered into production without a prototype being built.
The first few B-25s built—sources vary, but 8–10 airplanes—were built with a constant dihedral wing. Testing at Wright Field showed that the airplane had a slight tendency to "Dutch roll" so all B-25s after those were built with a "cranked" wing, giving it the bomber's characteristic "gull wing" appearance. The two vertical stabilizers were also increased in size.
40-2165 was retained by North American for testing while the next several aircraft were sent to Wright Field.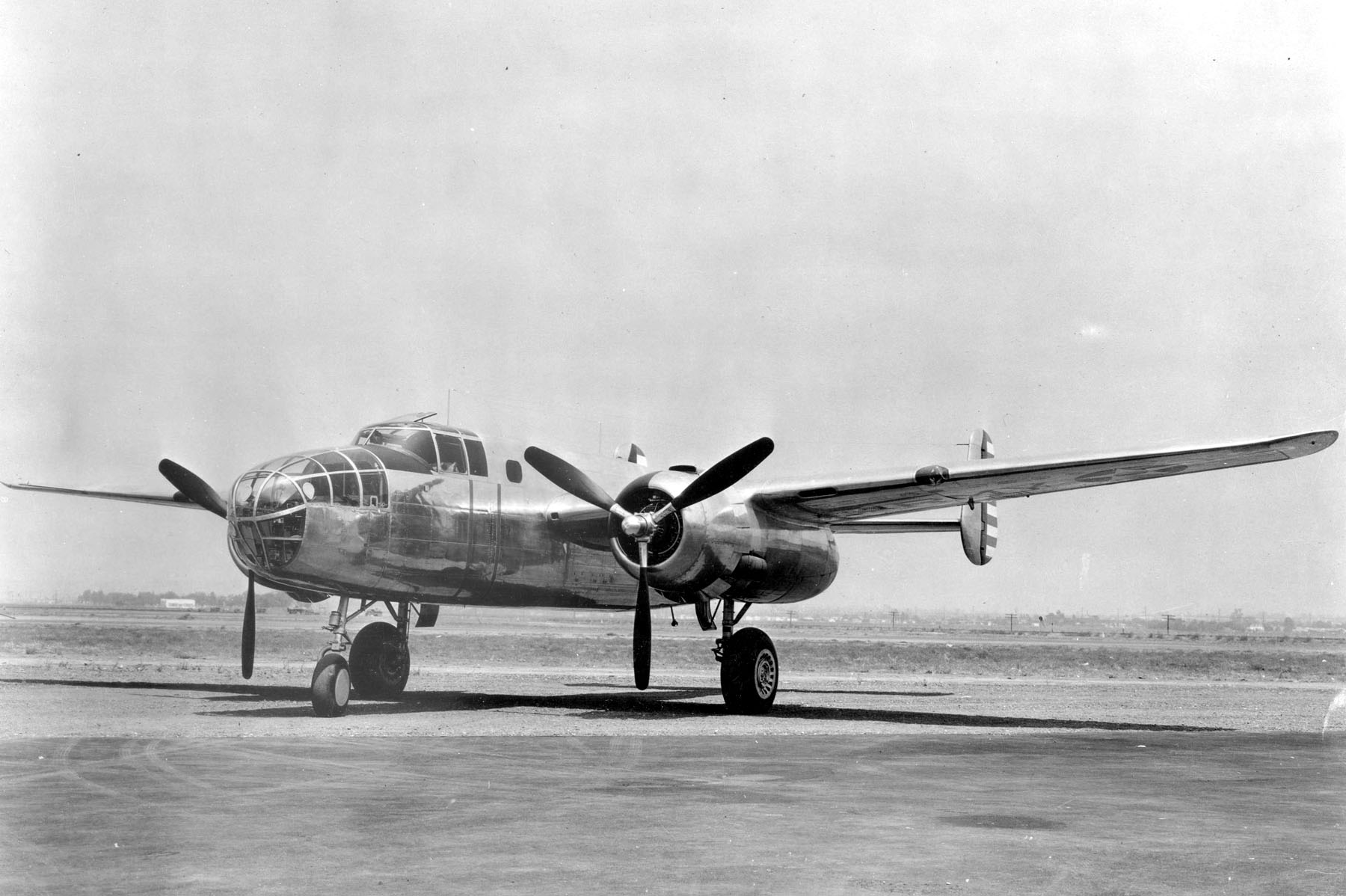 North American Aviation NA-62, B-25 Mitchell 40-2165, left front. (U.S. Air Force)
The B-25 was named Mitchell in honor of early air power advocate Brigadier General Billy Mitchell. A total of 9,984 B-25s, F-10 reconnaissance variants and U.S. Navy and Marine Corps PBJ-1 patrol bombers were built by North American Aviation at Inglewood, California and Kansas City, Kansas. The last one, a TB-25J, remained in service with the U.S. Air Force until 1960.
Twenty-three B-25s were built before the B-25A Mitchell went into production. The B-25 was operated by a crew of five. It was 54 feet, 1 inch (16.485 meters) long with a wingspan of 67 feet, 6.7 inches (20.592 meters) and overall height of 16 feet, 4 inches (4.978 meters). The empty weight was 17,258 pounds (7,828 kilograms) and the maximum gross weight was 28,557 pounds (12,953 kilograms).
The B-25 was powered by two air-cooled, supercharged, 2,603.7-cubic-inch-displacement (42.688 liter) Wright Aeronautical Division Cyclone 14 GR2600B665 (R-2600-9) two-row 14-cylinder radial engines which were rated at 1,500 horsepower at 2,400 r.p.m., and 1,700 horsepower at 2,600 r.p.m. for takeoff. These engines (also commonly called "Twin Cyclone") drove three-bladed Hamilton Standard Hydromatic variable-pitch propellers through 16:9 gear reduction. The R-2600-9 was 5 feet, 3.1 inches (1.603 meters) long and 4 feet, 6.26 inches (1.378 meters) in diameter. It weighed 1,980 pounds (898 kilograms).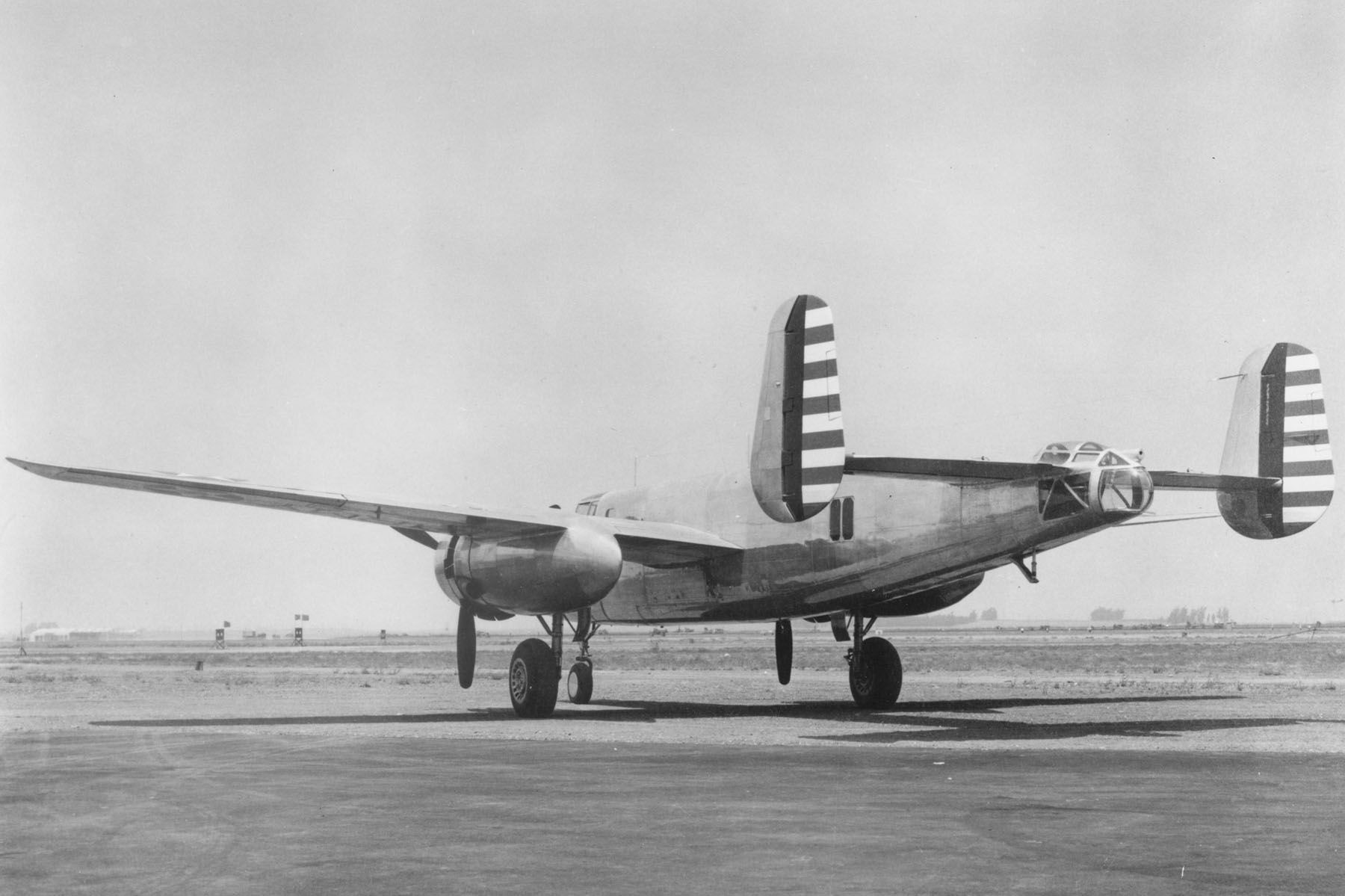 North American Aviation B-25 Mitchell 40-2165, left rear. (U.S. Air Force)
The medium bomber had a maximum speed of 322 miles per hour (518 kilometers per hour) at 15,000 feet (4,572 meters) and a service ceiling of 30,000 feet (9,144 meters). It could carry a 3,000 pound bomb load 2,000 miles (3,219 kilometers).
Defensive armament consisted of three .30-caliber and one .50-caliber machine guns.
After testing was completed, B-25 40-2165 was retained by North American and modified as a company transport. During a flight on 8 January 1945, it crash-landed. The airplane was damaged beyond repair.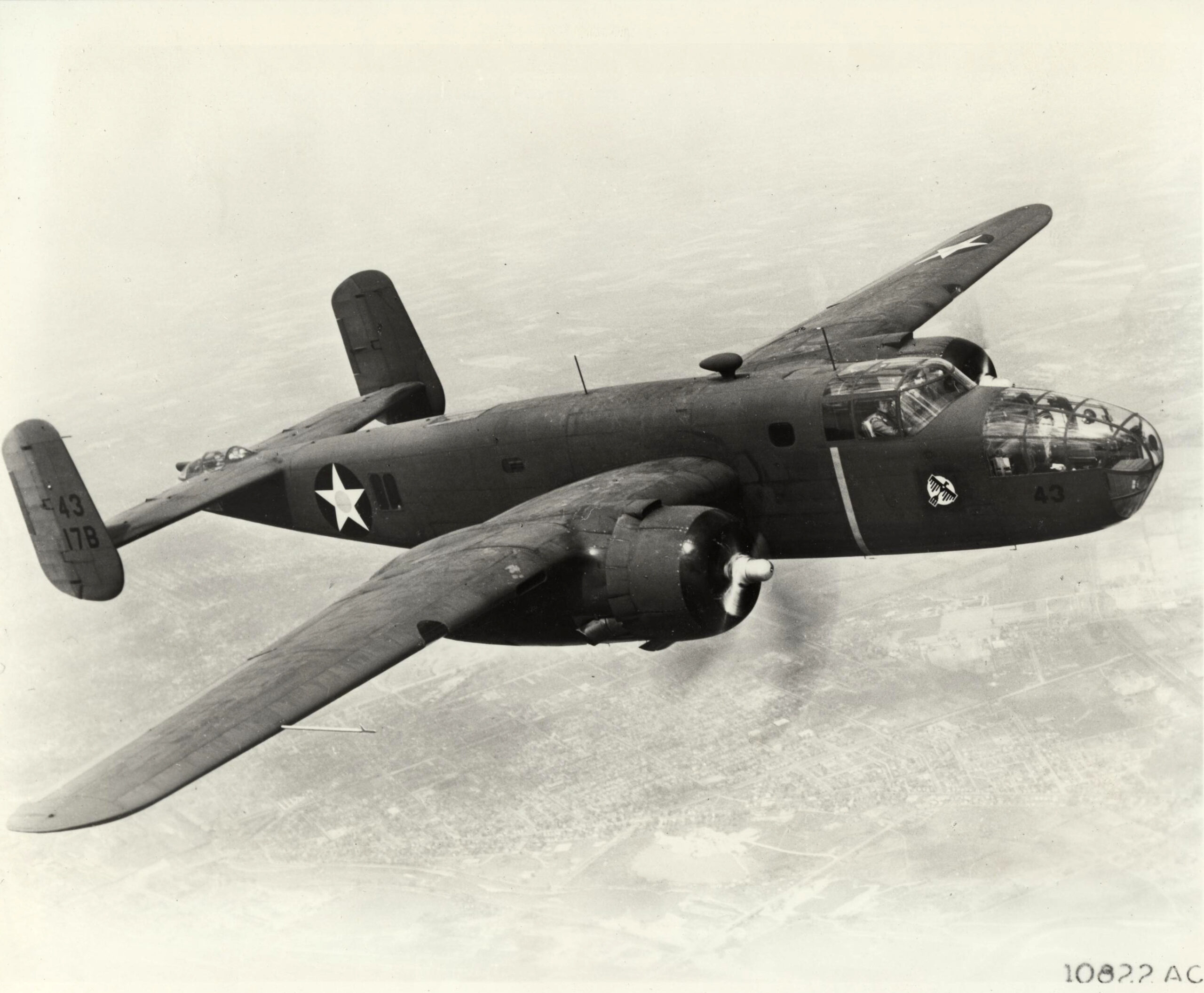 North American Aviation B-25A Mitchell medium bomber of the 34th Bombardment Squadron (Medium), 17th Bombardment Group (Medium), based at McChord Field, south of Tacoma, Washington, circa 1941. (U.S. Army Air Corps 10822 AC)
On the photo: Front view of the first North American Aviation B-25 Mitchell medium bomber, 40-2165, at Mines Field, August 1940. The constant dihedral wing was used on the first nine airplanes built. (U.S. Air Force)
Similar news