The Ministry of National Defense of Taiwan reported the interception of a Chinese Shaanxi Y-8 anti-submarine aircraft in its air defense zone on April 3, 2022. 
The maritime patrol aircraft of the People's Liberation Army Air Force entered the air defense identification zone (ADIZ) from the southwest, at the edge of the median line which separates the Taiwan Strait, near the Taiwan-controlled Pratas Islands.  
China does not recognize the sovereignty of Taiwan and considers the strait, which separates the island from the continent, part of its territorial waters.  
The Taiwanese Air Force (ROCAF) reacted by sending a combat air patrol to intercept the intruder. Radio warnings were issued, and air defense missile systems were deployed to monitor the flight of the Chinese aircraft. 
Though these events occur almost daily, Taiwan President Tsai Ing-wen recently called for increased vigilance from the island's military in the face of the current invasion of Ukraine by Russia.  
"In the face of foreign forces intending to manipulate the situation in Ukraine and affect the morale of Taiwanese society, all government units must strengthen the prevention of cognitive warfare launched by foreign forces and local collaborators," Tsai said in a meeting in late February 2022.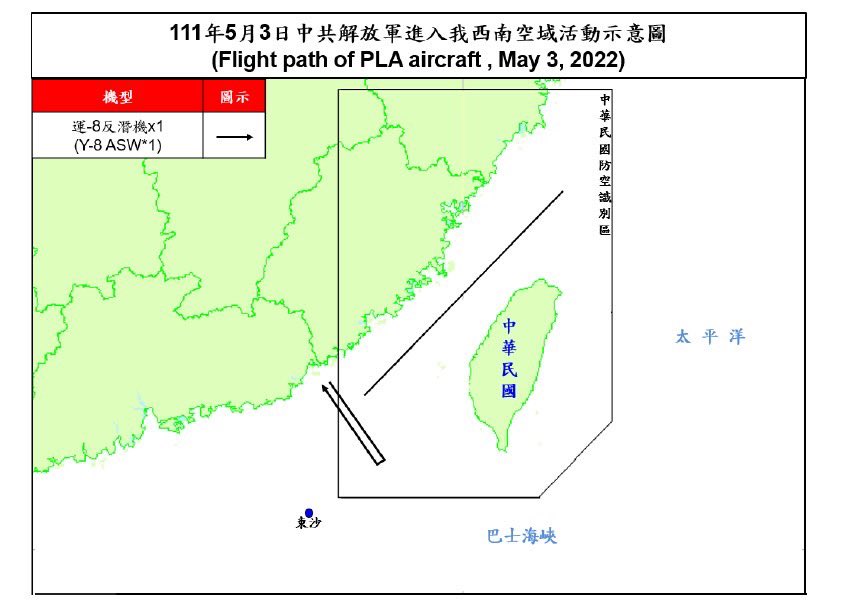 The flight path of the Y-8 (Source: Taiwan Ministry of National Defense)